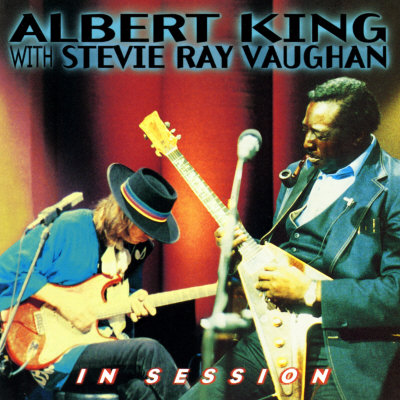 If you know anything about blues music, you know how good this album is regardless of whether or not you've heard it. Despite the two huge names, I've met a decent amount of blues fans that have never heard this, let alone know there was a lengthy, recorded collaboration between the two. Simply put, more people need to know about this album, which is why I'm throwing it up here. This session was originally recorded live for television in 1983 and was not put into album form until 1999. According to wikipedia, the dvd of this session will be released on September 28, 2010 (tomorrow).
Before almost every track, you will hear a 61 year old Albert King opening with either a story or a word of advice to the man that respected him most: Stevie Ray. You can sense the respect SRV has for the man through his responses to King and also through his playing; he seems to hold back within the first few songs until really coming out (after King more or less encourages him to) during the 6th track, titled "Blues at Sunrise". During this track, King tells a story of when he played this song in the 60's with Janice Joplin and Jimi Hendrix, making this album not only great musically, but also just interesting to listen to for a blues fan.
So if you're in the mood for some guitar virtuosity and some good ol' howlin', give this a listen.
Videos of session
Sounds